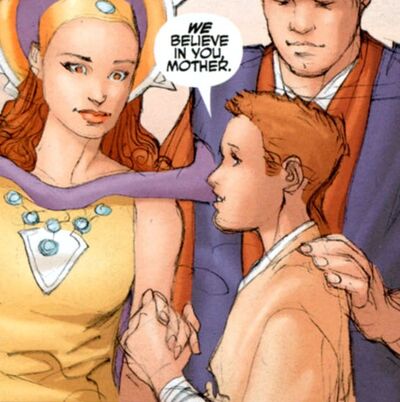 Jinn Skywalker is the youngest son of Anakin and Padme Skywalker. Jinn was born ten years after the twins on Dantooine, after the war against the Empire was in somewhat stable ground. Jinn is a very good pilot though he is left out of a lot of the earlier plots due to his young age. 
Characteristics
Edit
Name: Jinn Naberrie Skywalker
Father: Anakin Skywalker
Mother: Padme Amidala Skywalker
Siblings: older twins Luke and Leia Skywalker
Marriages: Ithyca (deceased) Judith SKywalker
Children: Tyrone Nioman 'Ty' Skywalker
Age: 5 (Tof) 10 (COTC) 30 (WOTF
Profession: Jedi Knight
Appearances: Twist of Fate, Choice of the Chosen
Last Appearance: Will of the Force
Twist of Fate
Edit
We first see Jinn Skywalker at home with his mother and father when Ahsoka calls to inform Anakin of Luke's misbehavior at the Jedi Academy. Anakin was due to go on another mission and was spending what time he had at home with his family. Anakin is given a poor progress on Luke and is very dissappointed in his elder son, as Luke is the Son of Sons and will have to be there to help Anakin destroy the Sith. Jinn, however, warns Anakin to not be too hard on Luke.
Choice of the Chosen
Edit
Pre-Will of the Force
Edit
 Relationships
Edit
Tyrone Dooku
Edit
Anakin Skywalker
Edit
Padme Amidala
Edit
Nioman Dokoora 
Edit
Leia Skywalker
Edit
Luke Skywalker
Edit
Obi-Wan Kenobi
Edit